Warning: Parameter 2 to qtranxf_postsFilter() expected to be a reference, value given in /home/eurocom/old.europaholidayus.com/wp-includes/class-wp-hook.php on line 286

Warning: Parameter 2 to qtranxf_postsFilter() expected to be a reference, value given in /home/eurocom/old.europaholidayus.com/wp-includes/class-wp-hook.php on line 286

Warning: Parameter 2 to qtranxf_postsFilter() expected to be a reference, value given in /home/eurocom/old.europaholidayus.com/wp-includes/class-wp-hook.php on line 286

Warning: Parameter 2 to qtranxf_postsFilter() expected to be a reference, value given in /home/eurocom/old.europaholidayus.com/wp-includes/class-wp-hook.php on line 286

Warning: Parameter 2 to qtranxf_postsFilter() expected to be a reference, value given in /home/eurocom/old.europaholidayus.com/wp-includes/class-wp-hook.php on line 286

Warning: Parameter 2 to qtranxf_postsFilter() expected to be a reference, value given in /home/eurocom/old.europaholidayus.com/wp-includes/class-wp-hook.php on line 286

Warning: Parameter 2 to qtranxf_postsFilter() expected to be a reference, value given in /home/eurocom/old.europaholidayus.com/wp-includes/class-wp-hook.php on line 286

Warning: Parameter 2 to qtranxf_postsFilter() expected to be a reference, value given in /home/eurocom/old.europaholidayus.com/wp-includes/class-wp-hook.php on line 286

Warning: Parameter 2 to qtranxf_postsFilter() expected to be a reference, value given in /home/eurocom/old.europaholidayus.com/wp-includes/class-wp-hook.php on line 286

Warning: Parameter 2 to qtranxf_postsFilter() expected to be a reference, value given in /home/eurocom/old.europaholidayus.com/wp-includes/class-wp-hook.php on line 286

Morocco & Sahara 11 Day In-Depth Tour
Summer 2019


* Rabat: Enjoy Moroccan cuisine with folk music & dance
* Fez: a world famous medieval city. Its medina (Old Town) still remains as 1300 years of Moroccan heritage
* Explore Sahara Desert by 4-wheel drive vehicle with spectacular scenery                                            * Special arrangements for accommodation in the desert style hotel. Enjoy the starlight in the night, and the sunrise in the morning                                                                                                               * Ait Benhaddou: A traditional mud brick city and has featured in many films including Lawrence of Arabia and Gladiator
* Breathtaking nature throughout our tour: High Atlas Mountain, Dades valleys & Sahara Desert
* Marrakech: A vibrant city, also the center of city activity and trade. To Djemaa El Fna Square that attracts tourists & local artisans (acrobats, magicians, musicians, story-tellers)
* Visit four of major imperial cities of Morocco: Rabat, Fez, and Marrakech & Meknes
* Provide one bottle of mineral water per person per day on the coach
* Provide headset service for 15 and more guests per group for better sightseeing experience
* Accommodations are based on TripAdvisor 4 star or up reviews
★ Entrance Fee & Transportation Included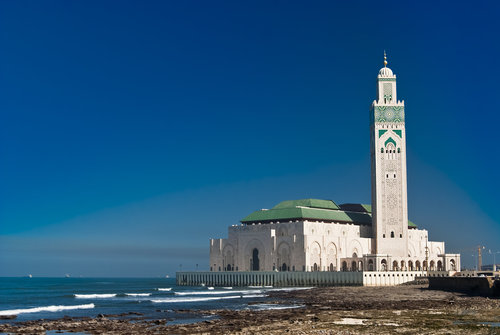 Today, taking a flight to Morocco's largest city – Casablanca. Casablanca has always been a synonym for the romance and mystery of the traveler. The city is bordered by the Atlantic Ocean and has its own unique and beautiful attraction.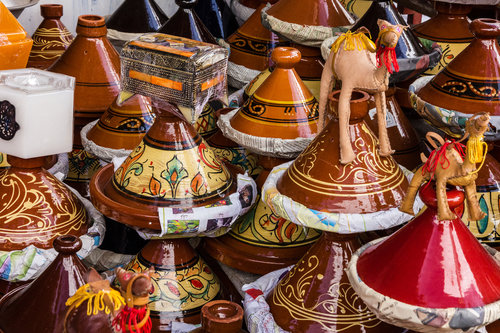 Arriving in Casablanca, the largest city in Morocco, today if time permits, go to the Corniche with the name of Miami Beach in Morocco, where you can also see MOROCCO MALL, the largest shopping mall in Morocco.
Meal: D/Atlantic Oceanview Restaurant French Fresh Fish Cuisine
Hotel: Movenpick hotel Casablanca or similar
Day 3 Casablanca-87km-Rabat-177km-Volubilis-32km-Meknes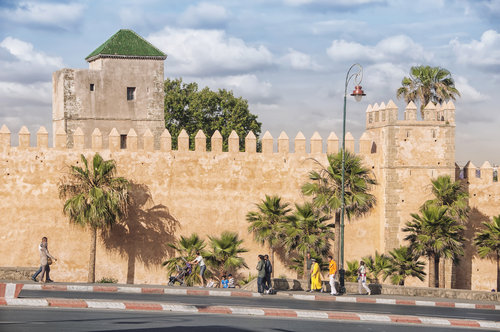 After breakfast, proceed to Rabat, Morocco's capital. Rabat has a European flavor, has the same metropolitan atmosphere as Casablanca, but is more refreshing than Casablanca. Upon arrival, first visit the spiritual father of Muhammad V in Rabat, the independent father of Rabat in Morocco, and to Hassan Mosque and Hassan Tower, built in the 12th century. Later visit Rabat city's oldest walled city Oudaya castle. Around the walled city lined with blue and white paint cabins. Afternoon visit Volubilis, Morocco best preserved ★Roman ruins, here was the Roman Empire's westernmost place, as was the administrative center of Roman Africa, a bit like the Acropolis: the south entrance of "Orpheus House"is not to be missed! Continue to the ancient capital of Meknes and visit Harding Square. This square is the place for ancient orders and judgments. It contrasts with the current lively atmosphere. The Mansour Gate on the square is known as "victory triumph". Its green and white colored porcelain, decorated with a geometric pattern of Islam, is one of the tourist attractions.
Meal: B/Hotel   L/Moroccan fried seafood platter   D/Hotel Dinner 3 Course
Hotel: Hotel Menzeh Dalia or similar
Day 4 Meknes-196km-Chefchaouen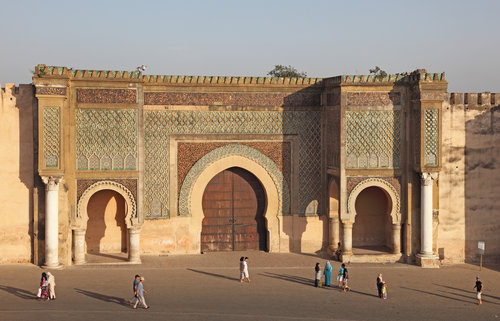 Today drive to Chefchaouen, which is Morocco's"City of Sky. "Ancient, mellow, fall in love with blue. There are many curved roadway, rough track, coupled with blue doors and white walls, red tile roofs top wavy add more than a dash of Spanish Andalusia architectural  style.
Meal: B/Hotel   L/Moroccan local cuisine   D/Hotel Dinner 3 Course
Hotel: Dar Echchaouen or similar
Day 5 Chefchaouen-202km-Fez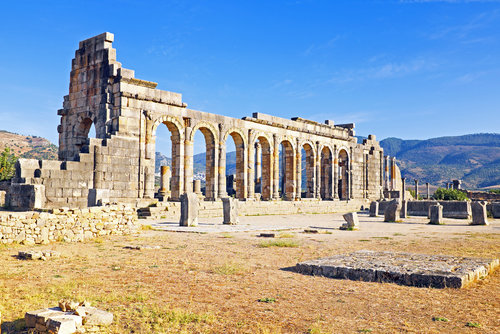 After breakfast, travel to Morocco's second largest city and first Muslim dynasty capital – Fez, Morocco thousand years of religious, cultural, artistic center as well as the four oldest imperial city in the history of the ancient city, is undoubtedly The country's most symbolic city. It was rated by the United States Geography Magazine as one of the 10 most romantic cities in the world. You will be taken to the Royal Palace, Mellah Jewish Quarter, Tanneries, in case of remodel, the change to visit the Tanneries of Sidi Moussa, Karaouine Mosque, Bab Boujloud and Medina. In addition, you are invited to visit the ★The Bou Inania Mederssa and special arrangements to see the entire fascist Old Town from a height. Also visit ★ancient leather manufacturing center (open-air stone trough with big vat), Idris II Mosque in the old town of Fes, classic Spanish Andalusian and Moroccan-style mosque & university. In the evening, a special Moroccan traditional song and dance dinner was arranged, and taste the Moroccan desert the Bastia.
Meal: B/Hotel   L/Moroccan Lamb Black Tajin Cuisine   D/Moroccan Traditional Cabaret Dinner + Bastia Pie
Hotel: Palais Medina or similar
Day 6 Fez-65km-Ifrane-348km-Erfoud-54km-Merzouga (Sahara Desert)
This morning departure to the  Sahara Desert,  along the way will go through Morocco MT.ATLAS first mountain scenery comparable to the Grand Canyon, winter tourism will be more snow covered mountains, the scenery spectacular. Through Midedt, is a Berber city, 1,500 meters above sea level. Although the surrounding scenery is dry and barren, looking southwards, the distance from the flat loess earth is a broad Ayachi mountain. (Jebel Ayachi, 3,737 meters above sea level), snow covered above the mountainside, very spectacular. Upon arriving in Erfoud, we will change to a ★four-wheel drive vehicle to enter the mysterious Sahara desert area, Merzouga. A very special and legendary desert adventure took place: On a ★camel, hustle and bustle, gliding over the sunset, crossing the golden desert. A special arrangement at the desert camp, provides you with a unique Saharan experience. (Please prepare a carry on bag for 1 night)
Meal: B/Hotel   L/Midedt Squid Cuisine   D/Hotel Dinner 3 Course
Hotel: Sahara Star Camp or similar
Day 7 Merzouga-54km-Erfoud-141km-Todra Gorge-168km-Ouarzazate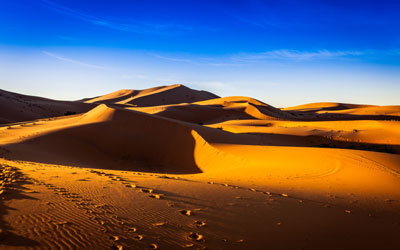 This morning take a ★four-wheel drive to return to Erfoud, Upon arrival, proceed to the most magnificent Todra Gorge in Northern Africa: the Todra River runs through the southern part of the Greater Atlas Mountains. Here you will find the largest waterfalls and magnificent canyons in Morocco. Due to the scarcity of water during most of the time, walk or take a car to reach the 300- meter-high gorge. From this journey of Vaasa Sartre Germany canyons Dades Valley south west of Morocco's most beautiful and attractive desert landscape road, known as the Valley of Thousand Kasbahs, it is Morocco's most famous castle Avenue, along the southern part of the Terrasse Mountains, across the entire Dades and Todra Valleys, across the grasslands, deserts and plateaus, these castles are made of rubble clays of vermiculite and used to be the residences of local families. Most of it was built in the 17th to 18th centuries, and in the desert where there was a lot of smoke, it was the most magnificent and spectacular. After we arrived Ouarzazate, located in Atlas, Draa, Dades mountain intersection of three cities, it has long been an important strategic position.
Meal: B/Hotel   L/Moroccan beef ball KEFTA Tajin cuisine   D/Local Style Cuisine
Hotel: Hotel Sultana Royal Golf or similar
Day 8 Ouarzazate-30km-Aït Benhaddou-185km-Marrakech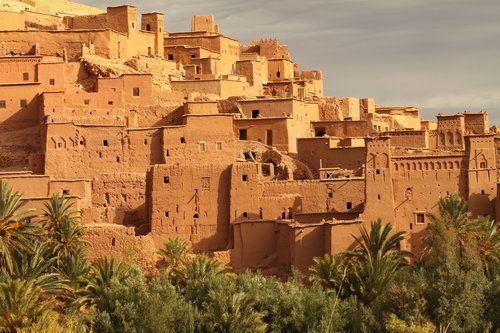 After breakfast visit ★Kasbah of Ait-Ben-Haddou in the outskirts of Ouarzazate today. It is also a UNESCO-designated monument preservation area. It is also made possible by many Hollywood business cards such as Lawrence of Arabia. After that, vist ★Atlas Studios, not to mention Moore wood, to revisit Hollywood's classic blockbuster scenes. After crossing the highest point of the Greater Atlas Mountains in the afternoon, Tischka, 2260 meters above sea level, is the most beautiful and spectacular tourism route in Morocco. In addition to the magnificent scenery, there are endless fossils and gem. Afterwards arrives Marrakech, an important ancient capital in southern Morocco, one of the four imperial cities of Morocco. Upon arrival in Marrakech, visit a UNESCO World Heritage site Plaza of De Jima, Gutubi mosque and brightest performers on the square, people swallow fire, snake charmer, etc all comes together. Marrakech is also a shopper's paradise. Skillful craftsmen are everywhere in the city, producing excellent wood products, leather goods, woolen materials, and metal products.
Meal: B/Hotel   L/Berber Baked + Moroccan Lemon Chicken Tajin Cuisine   D/Local Style Cuisine
Hotel: Atlas Medina & Spa or similar
Day 9 Marrakech-243km-Casablanca
In the morning, visit the ★Yvesson Laurent Garden, then take a ★carriage ride to the old town, to the ★Palace of Brahma to see the essence of the Islamic architecture; the ★Royal Palace, the old capital of the old days. After the move to the new capital, a lot of building materials removed, leaving behind devastation, people pay homage to the old aura. Then transfer Casablanca.
Meal: B/Hotel   L/Moroccan Beef Couscous   D/Chinese 8 Dish 1 Soup
Hotel: Movenpick hotel Casablanca or similar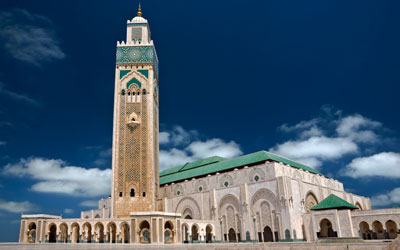 This morning, visit the ★Hassan II Mosque, which was completed in August 1993 in the Atlantic Ocean. Located on the Atlantic Ocean in Card City, it is built entirely in white marble. The tower of worship is up to 200 meters. It is second only to the Mecca and The third largest mosque in Egypt, the Azar Mosque in Egypt, was built as a sea palace and was designed by the French architect Michel Pinseau. It was inspired by the Koran: the throne of the god of water. ★Afternoon tea on the ocean road, then visit old city and souvenir shops. Special Farewell Dinner tonight.
Meal: B/Hotel   L/Local Style Cuisine   D/Farewell Dinner
Hotel: Movenpick hotel Casablanca or similar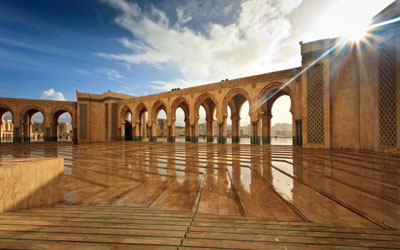 Say goodbye to Casablanca! This trip to will surely bring you another special experience. Transfer to the airport and fly back to your sweet home.
Meal: B/Hotel
| Departure Date 2019 | Adult | Child | Single Supplement | Reserve Now |
| --- | --- | --- | --- | --- |
| 4/03 | $2,599 | $2,099 | $800 | |
| 4/17 | $2,599 | $2,099 | $800 | |
| 5/08 | $2,599 | $2,099 | $800 | |
| 5/22 | $2,599 | $2,099 | $800 | |
| 6/12 | $2,599 | $2,099 | $800 | |
| 6/26 | $2,599 | $2,099 | $800 | |
| 7/10 | $2,599 | $2,099 | $800 | |
| 7/24 | $2,599 | $2,099 | $800 | |
| 8/14 | $2,599 | $2,099 | $800 | |
| 8/28 | $2,599 | $2,099 | $800 | |
| 9/04 | $2,599 | $2,099 | $800 | |
| 9/16 | $2,599 | $2,099 | $800 | |
| 10/14 | $2,599 | $2,099 | $800 | |
Tour Fare include: 4-5 star Hotel, Breakfast, Lunch, Dinner, Local Transportation & Entrance Fee
Tour Fare exclude: Airfare, Personal expense, any expense not included in our itinerary, Tips (Tour Leader, Bus Driver, Tour Guide: USD $10.00 per day), Visa Fee. Travel Insurance( If full payment paid 60 days prior to departure date, we offer travel medical insurance for US residents only)
** If you purchase air ticket on your own, your arrival time to the first destination and your departure time from last destination to U.S. must be the same as our group. If not the same, you must arrange your own transportation to meet group and to aiport on the last day **
Notes:
*Tour fare is per person in double occupancy
*Child Fee: 2-11 years old share bed with parents, otherwise will be count as adult fare
* Single supplement is for one person occupying one single room with one bed
*Tour fare, air ticket, airport tax and fuel surcharge are subject to change base on fluctuation in price, please contact us for more info
* We reserve the right to modify the itinerary and price change 30 days prior to tour departure date